Let's be honest–anything with the word "needle" in it sounds a bit intimidating, but microneedling results speak for themselves . Despite the name, microneedling is a minimally-invasive, non-surgical technique that will naturally boost your collagen production. No wonder microneedling is so popular amongst Hollywood stars and celebrities. Say goodbye to wrinkles, discoloration, acne scars, and large pores. You'll see fantastic results with minimal recovery time. !
What exactly is microneedling?
During the procedure, your aesthetician will use a tool with tiny needles, creating small punctures on the top layer of the skin. Why would you want to get poked with needles? Because it prompts your body's body's natural histamine response to promote new collagen and elastin. The idea is to trick your skin into thinking it has been wounded to thicken the skin and improve its texture naturally. The treatment also helps reduce the size of your pores and acne scars. Microneedling creates thousands of tiny injuries, triggering a healing response from your body. And don't worry, you won't feel a thing during the procedure thanks to the numbing cream that will be applied prior.
What are the advantages of microneedling?
The treatment process only takes about 15 minutes with a 30 minute topical numbing
Microneedling has both short - and long-term benefits
Your treatment can be customized to treat individual problems, such as areas with acne scars, dark under-eye circles, crow's feet, and lines on your neck or chest
Short recovery time of 2-4 days
How does the procedure work?
Thirty minutes before your treatment, a topical anesthetic cream will be applied to your skin so you'll be comfortable during the microneedling session. Microneedling is extremely customizable. Depending on your specific skin issues, an active serum is applied that's just right for you (for example vitamin C to fade pigmentation). The microneedling device used by your aesthetician is spring-loaded, employing a stamp-like motion on your skin to achieve optimal results.
After the procedure is complete your aesthetician will apply a serum and cooling mask to help calm your skin down. By creating thousands of little injuries, microneedling also helps the active ingredients from the serum to penetrate deeper and work dramatically better.
What will my skin look like afterward?
Microneedling triggers a natural healing response. Right after the treatment, you will look like you just got a mild to moderate sunburn but don't worry, the skin will appear red and inflamed only for about 24-48 hours. The best thing for your skin after a microneedling appointment is to keep it hydrated and protected with SkinCeuticals serums and broad spectrum suncscreen. Have an event coming up? Book your appointment at least two weeks in advance. Your skin needs time to heal and naturally produce collagen. After all, you can't rush perfection. The result of glowing, younger-looking skin is well worth it.
When will I see results?
A week after your first treatment you should notice a difference in your skin's texture and a reduction in your pore size. Depending on your skin concerns, your aesthetician will develop a treatment plan that's right for you. Deeper wrinkles and acne scars will require more follow-up appointments. To get the full benefits, you'll need at least three sessions. The results are not permanent, and you will need to go to follow-up microneedling appointments. How long your results last depends on your skin's condition, what was treated, and whether your home care regimen provided by your aesthetician is being followed.
As always, it is recommended to leave microneedling to the experts.
The popularity of microneedling has resulted in many at-home devices claiming fantastic results. The truth is microneedling is extremely technique-dependent.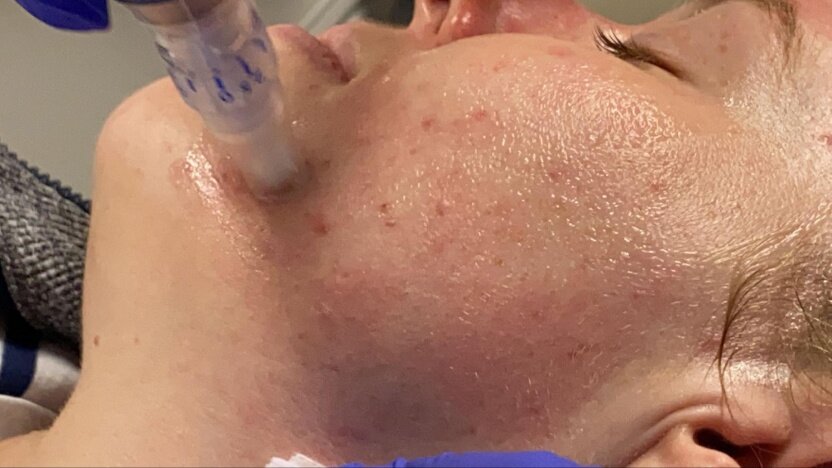 To guarantee the outcome of your dreams, you should seek a qualified aesthetician with years of experience. DIY at-home microneedling can end up damaging your skin and even leave scars.
Are you a good candidate for microneedling?
Microneedling is generally a treatment that's well-tolerated by most adults who are in good health, and there are few risks involved with the procedure. However, it's not recommended for pregnant or nursing women. Additionally, if you have active skin conditions, such as eczema or rosacea, microneedling is not recommended.
Want to learn more?
The team at Rejuvenate MedSpa is just a call away, and we're happy to answer all your questions. During your Denver medical spa consultation, you will also get a fully personalized plan that is designed specifically with your skin in mind. Microneedling offers many exciting ways to improve your skin, and we can't wait for you to see what the treatment can do for you.